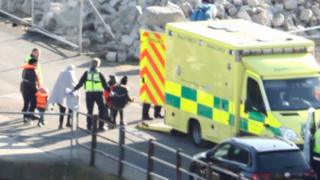 Ninety migrants including children have been rescued from the English Channel, a record figure for a single day.
Eight small boats were earlier reported off the coast of Dover, one of which was carrying a group of 21 men.
Fifteen of the 90 "claimed to be minors", the Home Office said as it confirmed those rescued included nationals of Syria, Yemen and Mali.
The migrants will be "dealt with according to immigration rules", it added.
The rescued children, subject to age assessment, will be transferred into the care of social services.
Six boats were intercepted in the Channel by Border Force, with a group of five migrants found by police in Dover town centre and another five people found in Samphire Hoe.
RNLI lifeboats from Dover and Littlestone and a fixed wing aircraft and HM Coastguard Search and Rescue helicopter from Lydd were scrambled this morning.
Home Office vessels Searcher, Speedwell and Alert were sent to intercept the boats.
Tony Eastaugh, Home Office director for crime and enforcement, said the government was "tackling illegal migrant crossings on all fronts with every agency".
Patrols of French beaches have been increased, with the use of drones, specialist vehicles and detection equipment, he said.
Last year at least 1,892 arrived in Britain after crossing the Channel in boats.
French authorities have said 371 migrants attempted the crossing last month, with 95 of them succeeding.