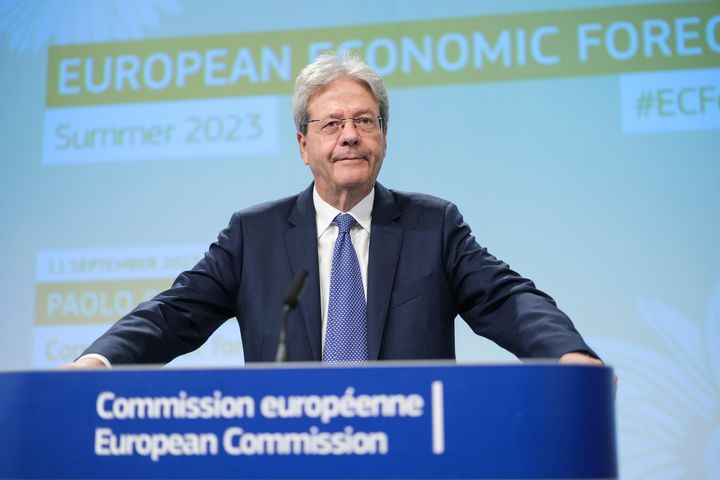 In fact, the European Commission said the Government's fiscal stance will be slightly "contractionary" next year — a complex measure based on the economy's future growth potential — after what it called an "expansionary" budget in 2023.
Ireland was one of seven EU countries to receive a clean bill of health on Tuesday as part of the bloc's annual round of economic oversight, which focuses extra attention on the 20 euro member countries.
Euro members Cyprus, Greece, Lithuania, Estonia, Slovenia and Spain are also on track to meet their own budget and economic targets, the Commission said.
But nine countries, including Germany – which last week received a constitutional court ruling to rein in spending – are not complying with EU guidelines. Four countries, including France, are at risk of breaching the guidelines, the Commission said.
Countries that run budget deficits above 3pc or fail to reduce debts year on year are set to face extra scrutiny from next year, when the EU reinstates its fiscal rules following their suspension since 2020. EU finance ministers are currently discussing an overhaul of those rules.
Ireland is in no danger of falling foul of existing or overhauled rules given its large budget surplus.
The European Commission effectively told the Government to keep doing what it is doing and said it is on track to phase out its emergency energy credits and increase capital investment.
But it said that Budget 2024 is based on what look like overly optimistic growth estimates.
The Department of Finance assumes gross domestic product (GDP) will grow 2pc this year and 4.5pc in 2024.
But the European Commission believes Ireland is to enter a recession this year due to falling exports, with GDP contracting by 0.9pc before recovering and growing 3pc next year.
As a result, the Commission estimates Ireland's the budget surplus this year and next year will be around half the size of original Government estimates, when compared with GDP.
It is not clear if that will mean the surplus will be smaller in real terms, as the Government uses different measures of wealth than the EU, preferring modified gross national income to GDP.
On Budget Day, the Government said the general budget surplus would come in at €8.8bn this year and €8.3bn next year, not including any extra refugee spending.
In its opinion on Ireland's budget, which will go to EU finance ministers for sign-off, the Commission said that most of the new tax cuts and spending increases announced "are expected to have a permanent impact on the public finances".
It also called out the Government for failing to provide any detail on how future pensions will be funded.
On Budget Day the Government pledged to set up two investment funds to be part-funded by windfall corporation tax receipts, one of which is intended to help fund future pensions.
EU economy commissioner Paolo Gentiloni said now is the time "for prudent fiscal policies" that complement the European Central Bank's efforts to fight inflation, while allowing governments to keep investing.