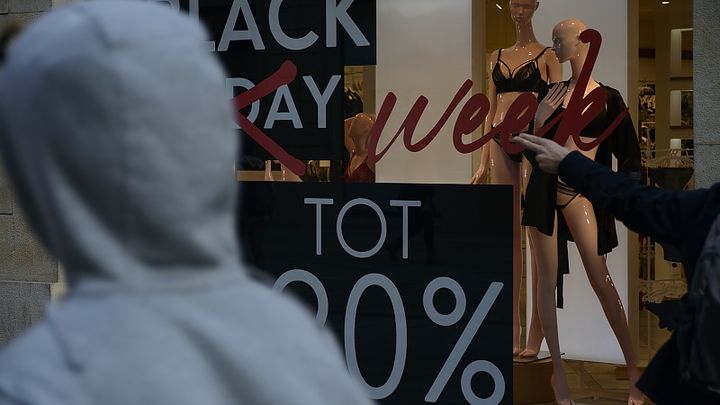 In one incident a shop claimed a TV reduced by €1,000 was actually just €150 cheaper
It has also called on retailers to tell it if a competitor is offering false discounts.
The Competition and Consumer Protection Commission (CCPC) is the enforcement body for new rules that came in last year on price reductions.
Retailers face fines of up to €5,000 if discounts they claim are on offer in sales are not genuine.
It comes as research shows younger consumers more likely to trust Black Friday deals than older people.
The average spend this year is expected to be down to €340, down from close to €400 last year, according to market research by the CCPC.
The CCPC said it would be cracking down on fake discounts ahead of Black Friday and Cyber Monday at the end of this month, and during the Christmas sales periods.
It urged retailers to report rivals they suspect of offering fake discounts, saying it knows competitors watch each other's prices.
The watchdog says it "welcomes any data from traders that evidences potential breaches of legislation".
Some retailers have been accused of jacking up the price for a short period just before a sales offering and then ­reducing it and claiming it was discounting the price.
"Ensuring compliance with the new sales pricing requirements is a priority for the CCPC over the 2023 Black Friday and Christmas sales periods," the consumer body said in a statement to the Irish Independent.
When a business makes a price reduction announcement, it must, by law, display the lowest price a product was on sale for in the previous 30 days, and base the discount on this price alone.
CCPC member Kevin O'Brien said: "A discount must be a real discount and the CCPC will not allow businesses to mislead consumers into thinking that they are getting a better deal than they actually are."
The CCPC warned it was illegal to mislead consumers about sales discounts.
"The CCPC will be actively inspecting retailers, both online and in stores, to check for compliance," it said.
"Where failures to comply with legislation are identified, the CCPC will take action against traders.
"All enforcement options will be considered, up to and including prosecution."
It said misleading pricing practices were harmful to consumers and law-abiding businesses.
It said it was aware that traders ­often track competitors' pricing, and it welcomes any data from traders that evidences potential breaches of legislation.
During the summer, the CCPC ­analysed pricing data from a number of websites of businesses late last year and into early this year.
Mr O'Brien said: "Our analysis has shown a number of concerning pricing practices, and demonstrated that a number of traders had not yet changed their practices around price-reduction announcements, following the introduction of the new rules last year."
Some of the issues around pricing practices that the CCPC found included retailers:
The CCPC said it was an offence to breach the pricing regulations.
The state body said traders had frequently not indicated the prior price in their discount announcements.
This means the previous selling price indicated is not the lowest price ­applied to the product in at least the last 30 days before the price of the product was reduced.
Previous investigations by the Irish Independent have uncovered fake discounts and misleading information from a variety of prominent Irish retailers.
In one case, a 75-inch television was claimed to be €1,100 cheaper – but the retailer had cut only €150 off the price.
In another, a pair of Sony headphones were advertised at €100 lower than the original price, instead of just €25 off the actual price the month before.